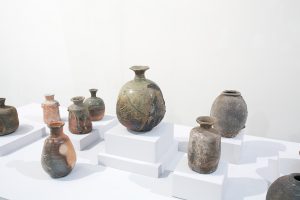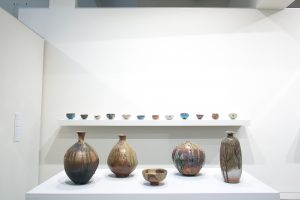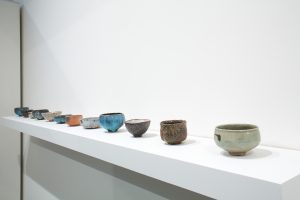 Widely regarded as the 'father' of Australian studio ceramics, in a career spanning over six decades, Peter Rushforth has sustained an enduring commitment to the pursuit of 'the good pot'. His resolve has always been to create works that employ native Australian materials, in order to develop unique forms of art particular to the environment in which he lives.
Born in Manly in 1920, Rushforth began making pottery in 1946 upon his return from military service in the Second World War. His introduction to the seminal A Potter's Book by Bernard Leach, began a lifelong commitment to the exploration and mastery of stoneware ceramic production, which embraced a fundamental belief in the central importance of beauty and functionality to his work. He soon discovered the aesthetic qualities inherent in the Japanese and Chinese traditions of wood-fired stoneware, and over the decades Rushforth has developed and refined a range of glazes for which he has become renowned. Perhaps the most revered of these is his Jun (Chun) glaze; the rich, opalescent blue achieved through a long, slow firing.
Throughout his life, Rushforth has worked closely and collaboratively with both local and international potters, including Japanese master-potter Shiga Shigeo (1928–2011). More importantly, as Head of Ceramics at Sydney's National Art School until his retirement in 1979, he has been responsible for stimulating interest in studio ceramics and shaped the direction of ceramics in Australia through his commitment to teaching pottery and nurturing emerging talent.
Peter Rushforth has received numerous accolades throughout his long and distinguished career, including the Order of Australia (AM) in 1985, an Australia Council Emeritus Fellowship in 1993 and, more recently, an Honorary Doctorate of Fine Art from RMIT in 2010. His work has been exhibited continuously since his first solo exhibition in 1952, both in Australia and abroad, and his stirring commemorative Peace Vessel overlooks the contemplation deck at Hellfire Pass Memorial Museum in Thailand.
In June 2013, at the age of 92, Peter Rushforth celebrated his last firing with family and friends, at his Blue Mountains sanctuary, Le Var, overlooking the majestic Kanimbla Valley.
Sunday afternoons @ the Gallery, 3pm
Sunday 14th July – Ceramic artists on Peter Rushforth
Join ceramicists Merran Esson & Bronwyn Kemp as they discuss the educational and philosophical influence of Peter Rushforth on pottery in Australia.
Sunday 28th July – The history of wood fired pottery in Australia
Meet potters Bill Samuels & Chester Nealie as they discuss the development of wood fired pottery in Australia.
Sunday 11th August – Armed forces to art school
Join Deborah Beck and Guy Warren in conversation with Scott Bevan, as they discuss the unique group of men and women, including Peter Rushforth, who went to art school after returning from the second World War.
Sunday 25th August – Collectors discuss the beauty of Rushforth pottery
Join filmmaker Christina Wilcox and architect James Stockwell as they discuss the beauty of Peter Rushforth's pottery.
MEDIA
John McDonald, Glaze of glory – The Sydney Morning Herald 3 August 2013
Christopher Allen, Behind the wheel of potter Peter Rushforth – The Australian 
installation photos: Chloe Ferres