1 exhibition, 3 galleries , 9 artists
The Visual Art Event of the Summer
7 December 2018 – 17 Match 2019
Destination Sydney: re-imagined is the second exhibition in a series of collaborations between three Sydney public galleries – Manly Art Gallery & Museum, Mosman Art Gallery and the S.H.Ervin Gallery. It follows in the footsteps of the jointly presented and highly successful collaborative exhibition project, Destination Sydney. Held over the summer of 2015-2016, Destination Sydney was an unprecedented in its achievement and showcased artworks responding to the theme of Sydney as a destination for creative endeavours.
Destination Sydney: re-imagined  returns to the subject of Sydney as a source of inspiration for so many artists, who have been drawn to its unrivalled landscapes. This exhibition presentsthe work of nine major Australian artists whose contributions have become synonymous with the landscape of Sydney. Featured artists include Ethel Carri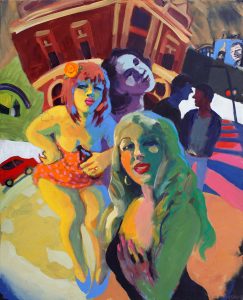 ck Fox, Adrian Feint & Ken Done (Manly Art Gallery & Museum), Roy de Maistre, Robert Klippel & Michael Johnson (Mosman Art Gallery) Jeffrey Smart, Nicholas Harding & Wendy Sharpe (S.H. Ervin Gallery).
Exhibition catalogue includes essays by writers including Scott Bevan, David Marr, Barry Pearce, Anna Johnson and many others.
Catalogue available for sale HERE
Visit the exhibition at Manly Art Gallery & Museum West Esplanade Reserve, Manly and Mosman Art Gallery  Art Gallery Way, Mosman
PUBLIC PROGRAMS
Sunday 10 February, 3pm
Lou Klepac, curatorDestination Sydney re-imaged, will discuss the concept behind the exhibition and the importance of the artists selected for the exhibition.
Sunday 24 February, 3pm
Join Destination Sydney re-imagined artist, Nicholas Harding in conversation with  Richard Morecroft.
Sunday 10 March, 3pm
Wendy Sharpe discusses her authentic response and rich use of colour for the urban environment where she lives.
MEDIA
Nick Galvin 'Destination Sydney re-imagined: City celebrated in a cliche free zone' The Sydney Morning Herald 8 December
Gina Fairley 'Three individual galleries unite for Sydney-inspired summer blockbuster' Arts Hub 7 December
The exhibition is supported by the Gordon Darling Foundation.
main image: NICHOLAS HARDING Central hall  2007 oil on Belgian linen Private Collection, Sydney
image:  JEFFREY SMART Cahill Expressway  1962 oil on plywood  National Gallery of Victoria, Melbourne Purchased, 1963 © The Estate of Jeffrey Smart
image: WENDY SHARPE Taylor Square 2014 oil on canvas  Private Collection, Sydney